Crochet Pattern: Little Safari Animals
By Rachel Choi –
7 Comments
New in the Crochet Spot Store, this pattern set includes 5 cute animals to crochet: Ellie the elephant, Gina the giraffe, Harry the hippo, Lenny the lion, and Zachary the zebra. Each animal is crocheted in the round amigurumi style, and is made up of several small pieces that are sewn together. For the multicolored animals, the pattern will provide tips for smooth color changes. The ability to embroider the faces is required.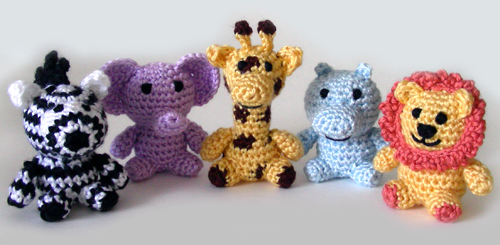 Click here to see pattern details!
All purchases help to support Crochet Spot and are greatly appreciated! Please log in or create a new account at the Crochet Spot Store to purchase this pattern. Premium Pattern Members may log into the store and download the pattern for free.