Crocheting Mandalas as Moving Meditation
By Caissa "Cami" McClinton –
6 Comments
If you have been following crochet online (and something tells me if you're reading this you probably do), you may have noticed an uptick in the prevalence of crocheting mandalas. I think there are a couple of reasons for this. Firstly, Kathryn Vercillo of Crochet Concupiscence began a project called Mandalas for Marinke in memory of crochet designer Marinke "Wink" Slump. If you're interested in reading about the project, you should check out this link or the article in Interweave Crochet, Fall 2015 about it.
Today we'll look at crocheting mandalas as a moving meditation like walking a labyrinth.

I wanted to write about crocheting mandalas as moving meditation because as many of us know, crochet can be a powerful form of self care. Life can be stressful. There is a lot of bad news in the media. Moving into the new year brings its own set of stressors, even though it can be wonderful. Maybe the things you normally do to calm down aren't working because of a higher stress level. As our lives bring changes, feeling an overload of stress can happen to anyone at any time. I personally have been using meditation as a form of stress relief since I was fifteen years old. Whether you're new to meditation or you already practice, I hope that this post will resonate with you on some level.
In its simplest form, a mandala is a circle. If you don't already know how to crochet a circle, Rachel has a great tutorial for that. Kathryn Vercillo published links to some beautiful mandala patterns on her blog. No matter how you are feeling at the moment, crocheting a circle can be fun and useful, so you should do it just for that reason! If you want to give your crocheted mandala special meaning through symbolic colors, check out this post on Spiritual Awakening with a section on color choices for creating a mandala.
On a deeper level, the mandala has been a spiritual symbol for centuries in world religions and in art. As Quiet Lotus explains, "[It means] 'circle' and also 'completion' and 'totality'… The circle itself is an ancient symbol, with circular patterns having spiritual and contemplative significance in religions and cultures around the world throughout history." Mandalas can represent "the universe in the microcosm of the circle." (Quiet Lotus)
I was having a stressful day, so I decided to crochet a mandala. I wound up a cake of beautiful, rainbow-colored yarn and grabbed my favorite J hook. Before I began the process, I promised myself to focus on only the present moment and just to enjoy the process of crochet. As I made the magic loop, I was delighted by the feel of the soft merino yarn and I noticed the way the yarn took a soft egg-shape. As I crocheted my first 12 double crochets, I delighted in the movement of the hook, the growth of the piece, and the fascinating interplay between colors. I didn't rush. I crocheted slowly, relishing each step of every stitch. If a thought came into my head, I just noticed it, then went right back to the moment with my crochet.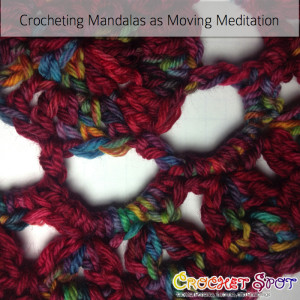 One observation I had was how much crocheting this mandala was like walking a labyrinth. When I was in college, the spiritual center had a labyrinth that the dean set up in a sacred space on campus. It looked a bit like this one. Students could come and walk the labyrinth as a form of moving meditation. I did it a couple of times and found it calming.
While researching for this post, I found an article on Labyrinth Walking Meditation on the website Meditation Oasis. Mary writes "For me, the labyrinth mirrors life, which isn't really linear. Walking it is a great way to relax into the twists and turns of life, to let go of the constant focus on future goals and the tendency to try to see how everything leads to something else. It's a way of being in the Now." Similarly, the crocheted mandala mirrors life in its completeness, its promise, and its beauty.
I'll leave you with a comment left by Eleanor on Meditation Oasis. She described her experience of walking a labyrinth and shared the following reflection, "This labyrinth walking meditation has taught me that there are different levels of silence. The first level is a simple sense of inner quietness. The second level goes beyond our joyful feelings and we begin to get in touch with our true selves. In the deepest level, we simply forget ourselves and sink into the divine silence."
Breathe. So what about you, my friends? Have you ever crocheted a mandala as moving meditation? Have you ever walked a labyrinth before? Do you have any mindfulness and crochet stories to share? Please leave your thoughts, ideas and questions in the comment section below. People have also been coloring mandalas a lot lately. Here is a link to some free mandala coloring pages.