Fine Art Crochet?
By Caissa "Cami" McClinton –
14 Comments
What is Fine Art?
(Can of worms: opened!)
Fine art is art developed primarily for aesthetics, distinguishing it from applied art that also has to serve some practical function. (Source)
What is Craft?
A craft is a pastime or a profession that requires some particular kind of skilled work. (Source)

So these things overlap quite a bit, don't they? The reason this came up for me is that I was having a conversation with a good friend of mine. My friend is very educated, well-rounded, and somewhat ensconced in the traditional (Western) canon.
Here's a quote from our conversation:
"All crafty creativity has a level that is truly breathtaking, but I have yet to see an example of crochet that I am just mesmerized by. I mean, I've seen needlepoint that has put a tear in my eye. And, watching some people sew/tailor… They're wizards! And, while what my grandma produced was "nice," even "pretty" at times, they seemed highly focused on being functional/utilitarian pieces."
So my response was to send him a series of pictures of crocheted art: Olek, Toshiko Horiuchi MacAdam, examples of Irish Crochet, and the Crocheted Coral Reef.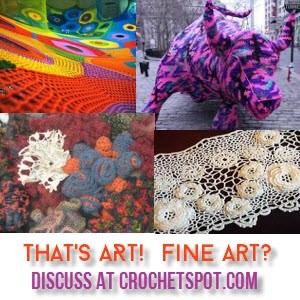 That up there? That's ART! Am I right?
I should definitely mention here that a simple difference in taste, attitude, and opinion is at play here, but I can't help but think there is something more to this argument. That is why I wanted to turn the conversation over to you, Crochet Spotters!
Send me your examples of fine art crochet! Help to convince my friend that crochet is a medium equal to painting. Or is it? Tell me your opinion about crochet as a medium. Should it even be considered a fine art? Why/why not? I am REEEALLLYY interested in hearing what you have to say and opening this conversation widely. Please contribute, pin, tweet, and share! Your opinion matters! 😀
And, as always, THANK YOU for reading Crochet Spot! You make it all worth it!