Five Fine Reasons to Frog Your Crochet
By Caissa "Cami" McClinton –
29 Comments
Well, hello again! Every day we have more interest in this year-long challenge. The Ravelry thread is pretty lonely. I'll try to drum up some business there, but go ahead and link over, too.
Today we're going to talk about the other side of WIPs and UFOs: calling it quits and getting your yarn back! Just need to let you know – this is a completely valid solution. If you have a WIP or UFO you're just done with, by all means, frog it and enter the challenge! This froggy talk was inspired by the fabulous JodieBodie who asked "What criteria do you use when deciding to frog a project?"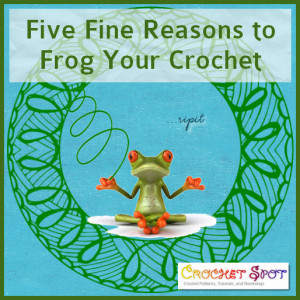 While the choice is completely individual, I am all about moving forward this year! I am going to be very directed with my WIPs and UFOs and I feel like the following criteria will reflect that spirit!
1. It's been on the shelf for a year… or more! Popular organizational wisdom tells us that "if you haven't seen it in over 2 years, it is safe to get rid of it." I'm going to do them one better and say that if you haven't worked on it in a year, it's time to rip it back. Exception: If for some reason seeing the project again ignites the crochet fever in you, then by all means finish it. Otherwise, rip it back!
2. You don't like it anymore. It's happened to me before, and I think it may have happened to the best of us. You start a project with the best of intentions and then along the way you realize that this thing just isn't what you had thought. No worries and no hard feelings, honey. Rip it back and get your yarn back!
3. It's a gift you never finished. This could be a really guilty one, but guilt dissipates when we do something about it. That bit, bauble, or blankie you started for the baby who is now 16 needs to be ripped back. Just get over it and buy the kid a gift certificate for the movies or something! 😉 But seriously, if you do have an unfinished gift, now is the time to admit it, rip it back, and get your yarn back. Scratch that person off your gift list by buying them something and enjoying the feeling of freedom!
4. You've tried, tried again. This tip comes from Crochet Spotter Collette Griffith, "If I have a project that is giving me fits, I'll stop on it, go to something else for a while, then go back to it. If that doesn't help, I'll repeat the whole process. But, if it STILL doesn't work for me, I'll frog it, and use the yarn elsewhere!" I agree wholeheartedly, Collette! Get your yarn back!
5. The yarn is yucky. It can be humbling to admit you've made a mistake in yarn choice. Maybe there's absolutely nothing wrong with the pattern but you can't bear the thought of slippers in that scratchy wool or a drapey shawl in that rough acrylic. Well, guess what! You don't have to! Rip it back, get your yarn back, and if you still hate it, just give that yarn away. Life is too short for unsatisfying hobbies! Make room in your space and in your life for better, more beautiful yarn. There is someone out there who would find the perfect project for your cast offs!
So what about you, my friends? How do you decide when to rip back a project gone wrong? Please leave your thoughts, ideas and questions in the comment section below. I would love to hear about your finished and ripped projects!