How to Crochet a Floppy Ruffle
By Caissa "Cami" McClinton –
5 Comments
Ruffles can be a lot of fun! They are great to add to the bottom of a sweater, a hat, or even as a floofy fringe alternative on the ends or sides of a scarf! There are hundreds of ways to crochet ruffles, but we're going to learn just one here. Excitingly, this version uses both the classic double crochet and the long, slim triple crochet!
As you can see, this is a versatile ruffle that can be used in different ways for different looks. For the purpose of practicing this skill, we'll make a swatch in this tutorial. Yarn and hook size don't matter for this practice swatch.

You may mouse over images for left-handed views.
Abbreviations:
ch – chain
dc – double crochet
tr – treble crochet
sl st – slip stitch
Foundation: ch 16.
Row 1: dc in 4th ch from hook (skipped 3 ch count as 1 dc), dc in each ch across: 14 dc
Row 2: ch 3 (counts as 1 dc now and throughout pattern), turn, skip first dc, dc in next dc and in each dc across: 14 dc
Note: The last dc on the row is made in the top of the beginning ch-3 on the previous row.
The photo below shows this done.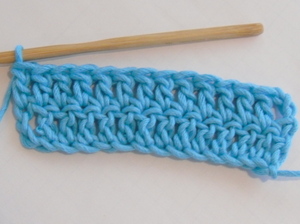 Row 3: ch 3, turn, 2 dc in first dc, 2 dc in next dc, *3 dc in next dc, 2 dc in next dc, repeat from * across: 35 dc
The photo below shows this in progress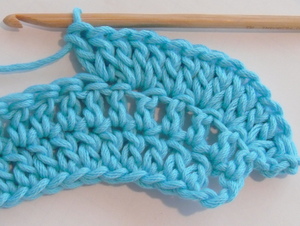 Row 4: ch 5 (counts as 1 tr and 1 ch), turn, tr in first dc, ch 1, (tr, ch 1, tr, ch 1) in each dc across: 140 sts
The photo below shows this in progress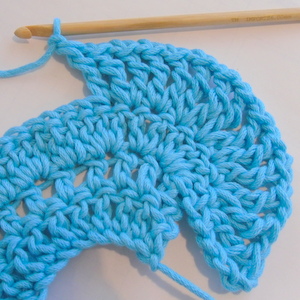 Finish off.
Which projects will you spice up with ruffles? If you need any help or have any questions, please leave a comment below.