How to Crochet: Double Crochet with Beads
By Robin Beers –
20 Comments
| | |
| --- | --- |
| Now that you know how to add beads to your work and do a single crochet, I will teach you how to add beads to a double crochet stitch. For a quick refresher about how to add beads, click here. In this tutorial, I used larger beads made of wood. I found them at my local craft store. The technique is basically the same as in single crochet except that you will pull the bead to the front of your work and secure it there. Some ideas for you are to make a pocketbook with beads, or maybe a beaded plant hanger. |   |
The materials you need are crochet thread or yarn, beads and a needle. I am using larger beads here so I use a tapestry needle to string them onto my yarn.

Note: If you are left handed, just put your mouse over the photo for a left-handed view.
First string the beads onto your crochet thread or yarn. Remember to put enough beads on.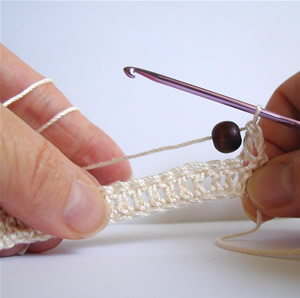 Begin crocheting the desired number of stitches, pushing the beads down out of your way.
When ready to add the bead, bring first bead close to the work area of stitch.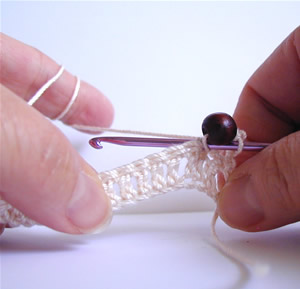 Yarn over, then insert crochet hook into the next stitch. Remember to keep the bead tight in place.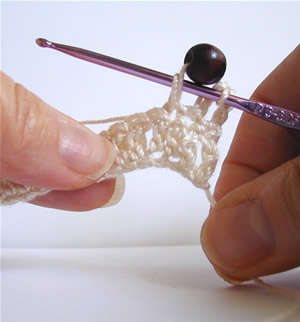 Yarn over, pull loop through stitch. You should now have 3 loops on the hook.
Notice the bead is still in place behind the hook.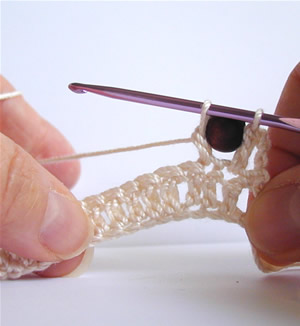 Yarn over and pull through 2 loops on the hook keeping the bead in place.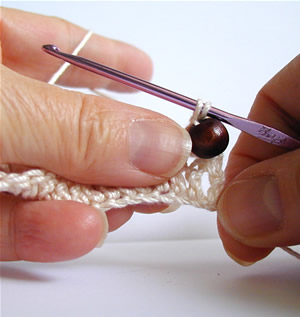 Now bring the bead up from the back to the front of the work with your finger and hold in place.
(Bring it around both loops, not through them.)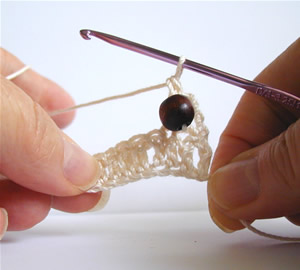 Keep the bead secure in front with your finger while you yarn over and pull through the final 2 loops on the hook to complete the double crochet stitch.

This is how you add beads to your double crochet work! It's not as difficult as you thought!
If you have any questions, don't hesitate to ask!