Make Your Thanksgiving Meal Special with Crochet
By Caissa "Cami" McClinton –
Be the first to comment
Well, the seasons are changing and fall is definitely in full swing here in the United States. For those of us in South Florida that means sunny skies, mid-70's, and snowbirds. My friends up north tell me this year the fall foliage is gorgeous! And those lucky people are probably wearing sweaters and cute legwarmers already!
I have to tell you, having made the move to a warm (Mexico) then even warmer (Florida) climate, these subtle seasonal changes are barely perceptible to my northern-bred body, but even so, the longer you stay somewhere, the more you become in tune with those tiny shifts. This year, I actually noticed a change in weather! In these climates, the holidays become even more important indicators of seasonal changes.

So let's think ahead and make this Thanksgiving cozy with crochet! Below you will find a seriously fabulous pattern round-up for all facets of your yearly meal.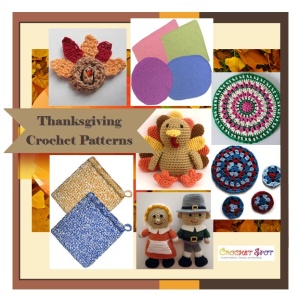 Prepping the Meal
Use these great potholders to protect your hands while you cook the Thanksgiving Day feast!
Amish Nine Patch Potholder
Thick & Sturdy Potholders
Serving the Meal
Dress your table with placemats crocheted in your favorite colors and shapes.
Basic Rectangle Placemat
X Marks the Spot Placemat
Placemat in Four Shapes
And when you serve, use a handmade hot pad or trivet in coordinating colors!
Kaledio Hot Pad
Granny Coaster and Trivet Set
On the Couch
Awww! Hug a turkey! Thanksgiving-themed plushies and an applique will make everyone happier!
Timothy the Turkey
Peter & Patty the Pilgrims
Turkey Applique
What are you doing to gear up for the Thanksgiving Day feast? Will you be incorporating crochet into your Thanksgiving Day preparations? Please leave any thoughts & ideas in the comment section below!