By Amy – April 5th, 2017
6 Comments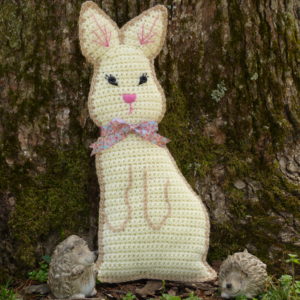 Do you remember the animal shaped pillows that used to be popular some years ago? I vaguely remember my brother having one growing up. They have made a comeback more recently, like everything always does, and you can buy them from various crafters today. While brainstorming a pattern for Easter, following the line of thought where bunnies and eggs were concerned, I began considering a way to adequately create a chocolate bunny. I started designing a 2D bunny form when I recalled these pillows and my design idea took on form.
This bunny-shaped pillow is crocheted just like a normal pillow, with two identical panels, but with extra shaping to create the bunny form. Before the panels are joined, the details like the face and arms are embroidered with simple embroidery and surface crochet. Joining the panels tops off the bunny shape with a few decreases in the indentions and increases at the tips. And for the finishing touch, a lovely floral ribbon bow!
Give a more lasting gift this Easter of homemade quality, and simultaneously bring back a little bit of vintage!