3 Ways to Use Crocheted Twirls
By A Guest Writer –
22 Comments
A Guest Post by Merry.
Twirls are a simple crochet construction. They can be quick to make and can be used in a variety of different ways.
As a decoration: in white, twirls can represent icicles which can be used for seasonal decorating. Made with green yarn, twirls easily stand in for foliage and fronds.
As a scarf: worked with mohair or a similar textured yarn, just 3 – 4 rounds result in a fantastically light weight scarf, adding lots of flair to any winter outfit.
As a bag strap: when made with double knit/worsted yarn, twirls are a stylish way to add straps to a bag.
But first let me take you through twirl-making, so that you can get crocheting wonderful twirls in all lengths and widths to use in any of the ways suggested above. So, if you're in the mood to try out some twirls, grab yourself a hook and some yarn and twirl through the following steps:

Note: For left handed pictures, roll your mouse over the image and it will change for you.
1. Chain 15, dc in forth chain from hook.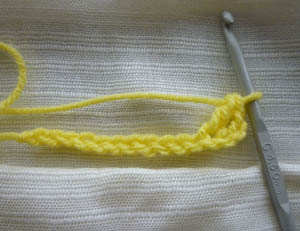 2. 2 dc in the next chain and then continue to crochet 2 dc in each chain until the end.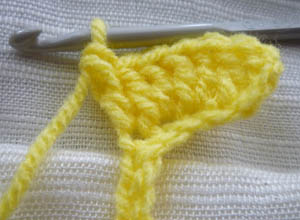 You will notice your twirl forming before your very eyes!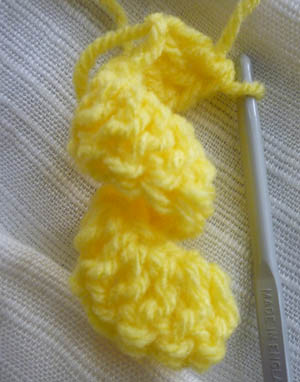 3. 2 dc in the last chain, ch 3 and turn.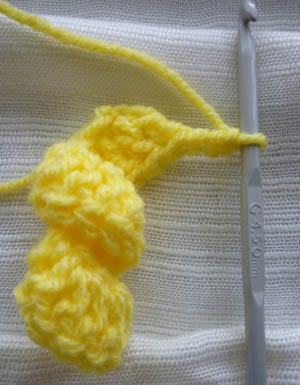 4. In the second row, dc in same stitch as the ch 3. 2 dc in each dc from the previous row until the end of the row.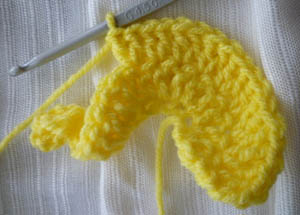 Note how the twirl is growing even more curved than in the first step. Once you reach the end of the row, twist your twirl on its own axis (i.e. on itself) so it looks like so: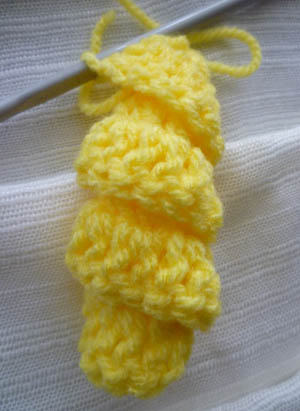 It's as simple as that!
NOTE: If you wish, you can carry on and complete another row in exactly the same way as the last one but unless the yarn is very light, more than two rows of double crochet will make the twirl heavy to wear.
Now you've made your first twirl, what to do with it? Here's a reminder of 3 ways to use crocheted twirls:
Use your twirls to decorate floral embellishments. In this example, I've used two pieces of twirls in place of leaves, adding both color and texture to my simple red flower: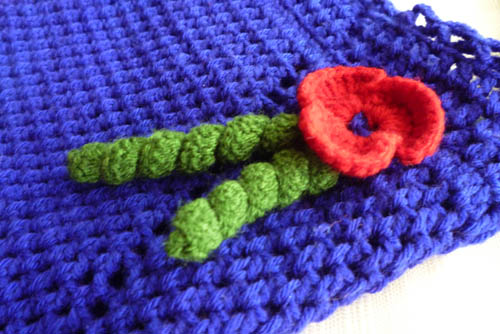 Alternatively, make longer pieces of twirl (simply start with a chain length to match the desired final length). Once completed, twist the twirl around its own axis several times to achieve a denser structure and stitch to the sides of a bag as a unique and stylish handle: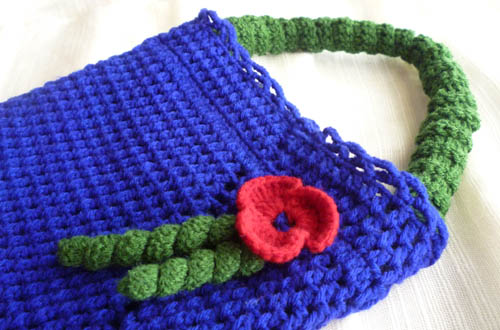 The third way to use a twirl is to start it as a 1.5 mter long chain and work for 3 or 4 rows to make a wearable piece of twirly glamor! Here you see a twirly scarf I made for my daughter. I used cream yarn with a variegated peachy yarn. I love the unusual look of the finished piece. If made using a soft merino-wool (or a similarly soft fiber) the result will surely be extremely 'strokable' and glamorous-looking. This can take some time to complete but for sure, the finished scarf is worth the patience and perseverance!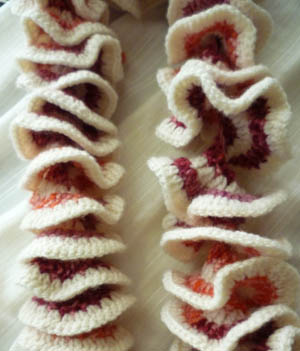 TOP TIP: For an extremely soft twirly-scarf, use a larger hook size than is recommended for the yarn so that the stitches are loose.
My final word on this fantastic scarf is that it looks good worn 2 different ways: on the left you see the spirals twisted in the same direction so that it looks like a stack of scalloped shells; on the right is the funky way to wear the same twirly scarf in which the scarf is left to take on random twists and turns. The two-coloured yarn combination is very effectively shown off in this second formation.
So there you have it: 3 ways to use crocheted twirls.
Feel inspired to try making these easy pieces? Then get a hook and yarn, and twirl!
Merry is a MAKER. She makes unique jewelery and accessories using a variety of materials. She also loves to make health-sensitive foods, amongst other things. Merry blogs about her extra-curricular interests over on http://merrymakes.blogspot.com