15 Crochet Stitch Tutorials
By Rachel Choi –
1 Comment
Looking for something new to crochet? Here are 15 crochet stitch tutorials to try. Perhaps you've already worked some of these stitches, but there is bound to be one that you haven't. Scroll through the list and see if anything sparks your interest! With a new stitch in your crochet arsenal you can make new blankets, scarves, bags, and more.
1. Blanket Stitch – This easy stitch is perfect for an afghan or blanket. It is just sets of 3 stitches, one single crochet and two doubles. Once you get into the hang of it, you can do it in your sleep! Use it for a baby blanket in a pretty pink or blue or for a regular afghan with bright colors! You can change colors after a few rows for a multicolored effect.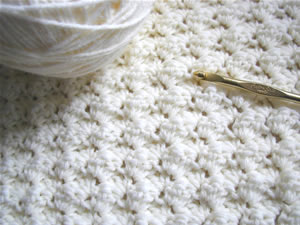 2. Chain Loop Mesh Stitch – This lacy stitch is an open crochet stitch made with loops of chains. It is very easy to crochet. You just need to know the single crochet stitch. Use this stitch to make an interesting scarf, a pretty table runner, or even a poncho.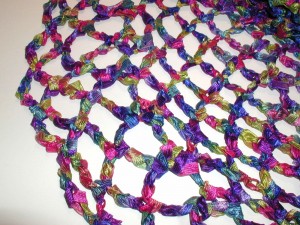 3. Loop Stitch – The loop stitch also called the fur stitch or the boucle stitch is a really fun stitch once you get the hang of it. You can make loops of any size on just one side of your work or both sides if you wish. Use it to make loopy pillows, scarves, hats or rugs. The possibilities are endless!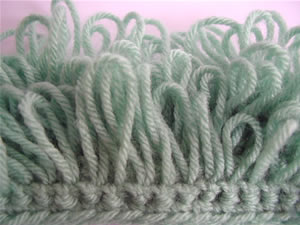 4. Offset Fish Net Stitch – This lacy stitch is an open crochet stitch like a fish net with slanted rows. It looks more complicated than it really is – simply rows of treble crochet. Use this stitch to make an interesting scarf or a pretty table runner. I use cotton yarn in a light weight (3) in this tutorial, but you can use worsted weight yarn or any weight in between if you like. With these fancy stitches, the thinner yarn shows up the most detail.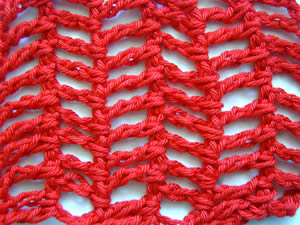 5. Knit Stitch – Have you ever wanted your crocheted garments to have that knit look without actually having to knit them? The knit stitch goes by many names: waistcoat stitch, center single crochet, center post single crochet, shallow single crochet. It can sound intimidating but don't worry, it's as simple as your basic single crochet with a slight alteration.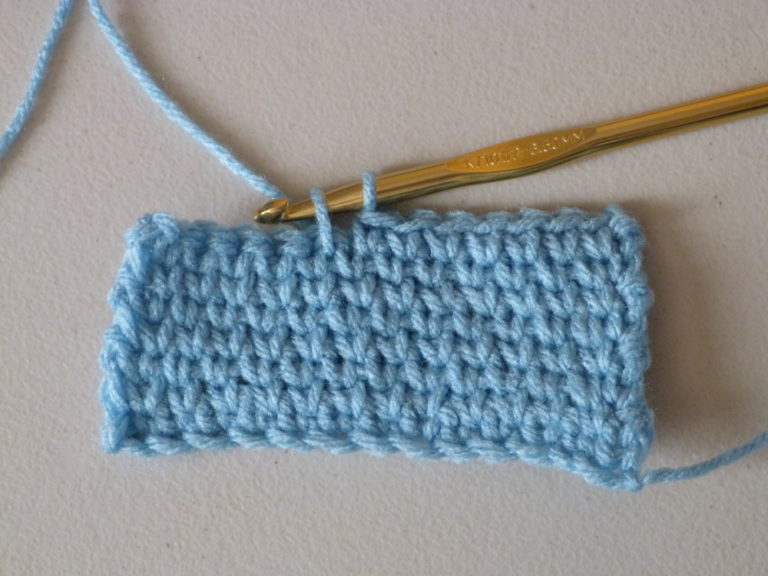 6. Half Double Crochet Camel Stitch – Do you love the look of knitting but don't have the desire to pick up the needles? Tunisian Crochet offers many gorgeous stitches that have a similar look to knitting, but what if you don't want to dip into the Tunisian waters yet? Here comes the Camel Stitch, a crochet stitch that looks remarkably like knitting.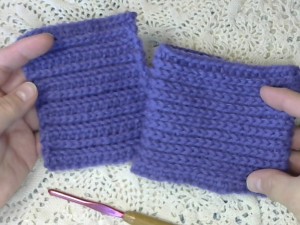 7. Spike Cluster Stitch – Learning new crochet stitches may appear daunting at times but often, once you unravel the wordy instructions, it can be done with a flip of the wrist –or crochet hook. The spike cluster requires about 5 stitches total. For a practice swatch, ch 10 and sc for 4 rows.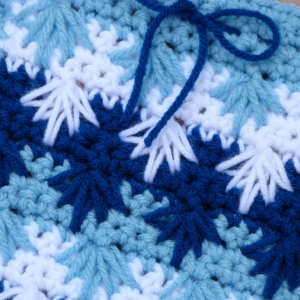 8. Butterfly Stitch – The butterfly stitch is a simple technique that creates a lace-like accent. It's worked between other stitches, usually double crochet or taller. The butterfly stitch is worked over four rows and uses long chain spaces. In this tutorial, the chain spaces are 8 chains long.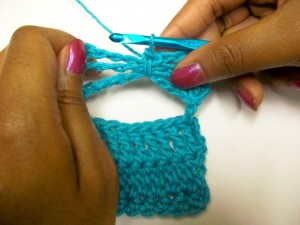 9. Corner to Corner Diagonal Box Stitch (c2c) – Tired of the same back and forth? Creating the Box Stitch diagonally is a really neat way of completing a corner to corner crochet project. You can use this stitch to create anything from blankets, dishcloths, placemats, scarves, clothing … the possibilities are only limited by your imagination!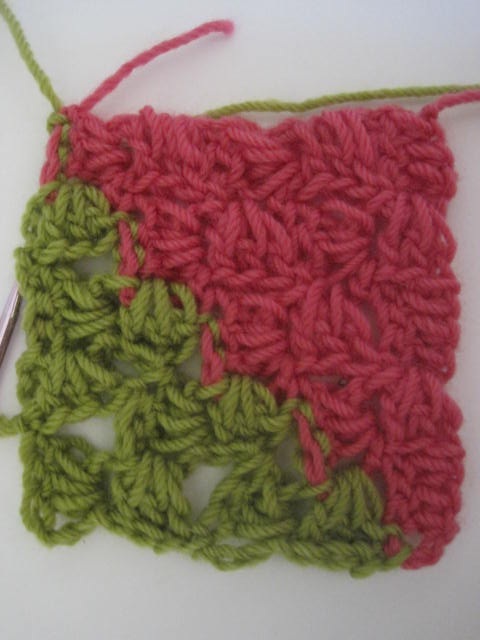 10. Honeycomb Stitch – The honeycomb stitch is an classic stitch mostly used in vintage patterns for lace coverlets and tablecloths. Use this stitch for a long table runner in a fun, bright color and bring a classic stitch out of antiquity!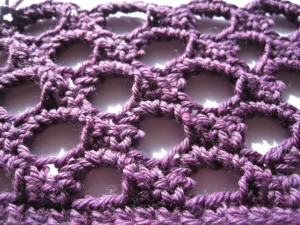 11. Pop Out Flower Stitch – It seems like 3-D is so popular these days, why not try it out in crochet as well? This stitch not only looks better in two colors, it's also designed to be made with two. You can be a traditionalist and made the bottom of the pop out flower green, or get creative and mix and match new colors.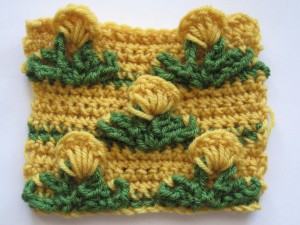 12. Aran Bobble Stitch – This particular stitch is made of panels of 17 plus three. One panel is perfect for a scarf, a thick headband (or earwarmer) or a smaller sized washcloth. If you wanted a wider project you could either whipstitch appropriately length-ed panels of the 17 plus 3 together, like a quilt.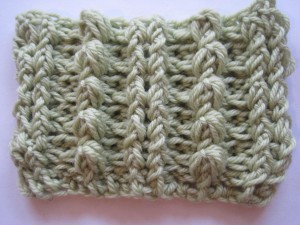 13. Spike Stitches – Sometimes we don't really need to learn a new technique to add fire power to the crochet arsenal. Would you believe that the visually stunning spike stitch is done just by inserting your hook in different places in your work? Yes, we use the same old stitches we're so familiar with.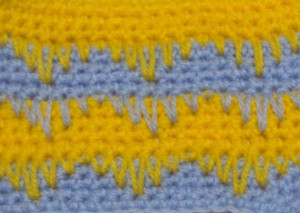 14. Bullion Stitch – The bullion stitch is a special stitch formed by wrapping the yarn several times around the crochet hook (usually 7 to 10 times), and then pulling a loop through. It can be used as a decorative stitch for jewelry, flower making or as a pretty edging.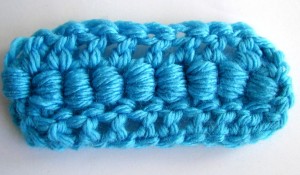 15. Cable Stitches – For the longest time, crocheters have envied knitters' cabled creations. Guess what? Crocheters can make them, too! The cables are made by using front post stitches and back post stitches.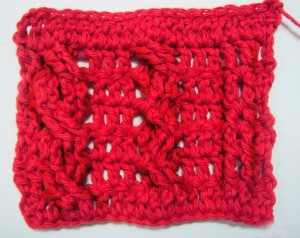 Check out more tutorials on the Free Crochet Tutorials page.