Finish in '15 New Prize! Handmade Shawl Pin from Michelle's Assortment!
By Caissa "Cami" McClinton –
2 Comments
Hey, everyone!! During my recent visit to Stitches Midwest I was on the lookout for things I thought you all would love and even some prizes to pass along to the readers of Crochet Spot. Since we've been engaging in our Finish in '15 WIP/UFO Challenge all year, I was hoping to sweeten the pot with some unique & crochet friendly swag. Luckily I found an intriguing option, a handmade shawl pin from Michelle's Assortment!
Originally I was drawn to her booth at Stitches Midwest because of the gorgeous crocheted and knitted samples she had there.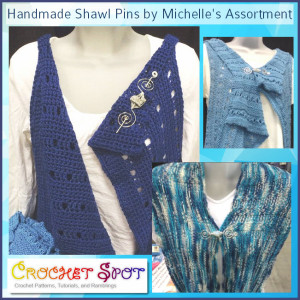 Then I saw the ornate, handcrafted jewelry that she was selling in addition to her crochet and knitting patterns.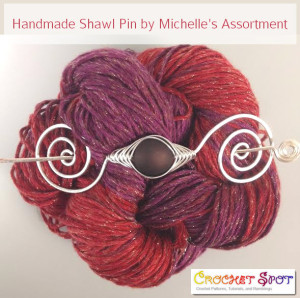 I looked through the numerous options for color and size, and started to pick out one that really suited my fancy.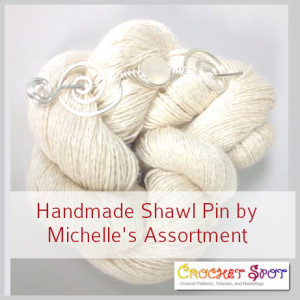 During that time Michelle's friend explained to me that Michelle makes all the shawl pins herself using beads or vintage buttons wrapped in copper wire which she then coats in silver. Although many shawl pins come in silver (and I personally prefer silver), Michelle offers gold and bronze colors, too, which are generally harder to find.
Considering how beautiful and special they were, I was surprised to find out how affordable the shawl pins were. I happily purchased one and have worn it almost every single day since. The pin is not only for handmade crochet. I have also used it on commercial woven scarves, an Old Navy cardigan, and others. It can be used as a fastener or simply as a decoration. The sky really is the limit with these things.
There's more inspiration about how to use them at Michelle's pinterest account. It's one worth following!
I am so excited that we can offer one here at Crochet Spot as a prize for the third quarter of the Finish in '15 challenge, but if you simply can not wait, just check out Michelle's Etsy Shop!
So get those hooks a-moving. Remember, all previous non-winning entries are still valid, and you may continue to enter as you finish projects this year. I will be drawing the winner from completed entries on September 30, 2015!
What do you think of these amazing shawl pins? Do you have a favorite way to accessorize your crochet? Please leave your thoughts, ideas and questions in the comment section below.