12 Great Crochet Holiday Gift Ideas
By Caissa "Cami" McClinton –
3 Comments
Hey there, Crochet Spotters! Is it just me, or is life a whirlwind of activity for you, too? I LOVED reading your responses to my recent post How Much Do You Crochet? and those responses have informed this post!
Although the high holidays just ended and Thanksgiving is just a few weeks away, the perennial question, "What are you crocheting for the winter holidays?" has come up! As well it should! And I'm going to be very, very realistic this year. Not everything needs to be handmade, and it really is the thought that counts!
Having said that, let's put some thought and some handmade into this gift-giving extravaganza. This year Haunukkah runs from December 16 through December 24, meaning (YAY!) we have more time this year! Christmas, is (of course) on December 25, as always.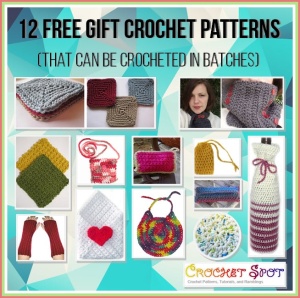 In order to keep things realistic and doable this season, I am focusing on consumables and really useful items that can be made in batches. No matter what the item is, I want to be sure that I can wrap it with love and send it off looking fabulous as well!
To this end, I've compiled a really fantastic set of twelve free Crochet Spot patterns along with gift ideas to help you compile your yearly list. Enjoy!
Give close friends the Easy Wine Bottle Cover crocheted in a naturally colored wool. The gift inside? A bottle of infused vodka! I love crocheted coasters for use at my work desk. It's a great way to warm up a corporate cube. Make one for each of your cube mates! Cool Coasters #3
Evoke a spa experience by crocheting an Easy Textured Washcloth and gifting it with a homemade sugar scrub! Soap on a rope? Nope. How about locally made lather and an Absolutely Easy Soap Saver? These Facial Cleaning Pads crocheted in soft, organic cotton would pair well with a facial scrub, astringent, or mask. Help your friends give stress the boot with a crocheted Rosemary Sachet stuffed with a favorite aromatic scent.
Friends in cold climates will need these Wrist Warmers with Ridges, and the length will be appreciated in the cold winter to come! I love the Simple & Modern Scarf/Cowl with Buttons because it can be worn so many ways and is very fashion forward.
Friends in warmer climates will find a Crossbody Pocket Purse to be useful while taking walks or bike rides. The Eyeglass Caddie will work well for prescription lenses, shades, or reading glasses. It's great to have these around!
Don't forget the little ones! The Absolutely Easy Baby Bibis an awesome way to remember your little friends on the holidays. Embellish with appliques!
Finally, make this Envelope your gift card holder of choice this year. It makes the "impersonal gift" seem that much more thoughtful.
What do you think of these ideas? Do you think you will crochet any of these for friends or family this year? Please leave your great ideas, plans, questions, and thoughts in the comment section below.