Finish in '15 First Quarter Contest Winner!
By Caissa "Cami" McClinton –
8 Comments
Hey, guess what! We have a winner of the first prize in our Finish in '15 Challenge! Crochet Spotter Crystal Wall entered the contest and was chosen at random to receive a free pattern from the Crochet Spot Store! Here are Crystal's WIP pictures!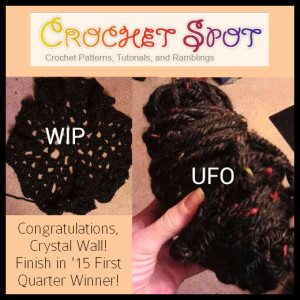 For the next round of the challenge, we are sweetening the prize pot by adding a copy of the Knitter's Book of Yarn by Clara Parkes. If you want to understand yarn, how it is constructed, how it behaves, and how to best use it, Knitter's Book of Yarn is exactly what you want! The book has been a popular favorite and valued reference book since its release in 2007. This is a prize worth having, folks! More prizes may be added as we go along. We'll see…
The next prize drawing will take place on June 30! There are two ways to enter!
1) Email your crochet before and/or after pics to [email protected]

OR

2) Complete the entry form by following this link.
Don't forget: Your WIPs can be anything you're working on or finished! They don't have to be projects that you haven't touched for months. You can enter any crochet WIP that you finish or frog into the contest.
To give you a little inspiration, here are my UFO yarnbacks and one shining finished object! I certainly could not enter the contest, but I wanted you to know that I was playing along with all of you!!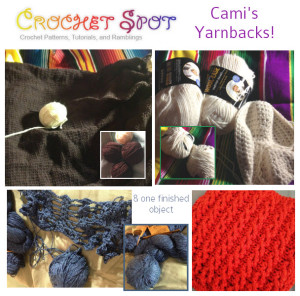 Tell me what you're working on! Which WIPs have your attention these days? Please leave your thoughts, ideas and questions in the comment section below.